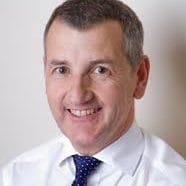 BDS, FDSRCPS, MRCS, AFRCS, FRCS
Professional Profile
Consultant Oral and Maxillofacial Surgeon, Mike Williams carries out over 80 jaw operations a year firmly placing him as a leading surgeon in the field. After dually qualifying in Dentistry and Medicine, Mr. William's work ranges from skin cancer treatment to complicated root surgery.
Having held his position for over 14 years, Mike has extensive experience in treating facial trauma through working in war zones. He has since become a keynote speaker on the subject.
Mike has a passion for teaching and training future consultants as examiner in General Surgery to the Royal College of surgeons of Edinburgh and in Oral Surgery to the Royal College of Surgeons of England. He acts as a mentor for the Faculty of Dental Surgery RCS Eng Minor Oral Surgery Diploma and is also a Medical Appraiser for Consultant colleagues within his NHS Trust.
Lastly, Mike is the Foundation Programme Director for his local NHS Hospital Trust and the Regional Surgical Advisor to the Royal College of Surgeons of Edinburgh.
Mike is married with 2 daughters. He enjoys running, sailing and is a keen but frequently stung bee keeper!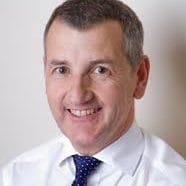 BDS, FDSRCPS, MRCS, AFRCS, FRCS
Find out more about the McIndoe Centre
We provide outstanding patient experiences
As a nationally recognised hospital of excellence in plastic, reconstructive, ophthalmic and maxillofacial surgery, we have demonstrated ourselves to be: effective, responsive, caring, safe and well-led. Recently rated 'good' by the CQC, we are committed to treating our patients and each other with kindness, respect and dignity resulting in life-changing outcomes.
Patient testimonials
Find out what it's like to be a patient, from the people who matter the most.