MB BS, BSc, FRCS(Tr & Orth)
Professional Profile
Mr Sam Rajaratnam FRCS (Tr. & Orth.) is a leading Consultant Orthopaedic Surgeon specialising in all aspects of knee surgery.
He is the Head of Department - Knee Surgery at the Schoen Clinic in London and also runs a successful practice at The Horder Centre, Crowborough and the McIndoe Centre in East Grinstead,
He specialises in the latest techniques in treating disorders of the knee joint. and is recognised as one of the leading experts in Knee replacement Surgery in the U.K.
Mr. Rajaratnam is also one of the chosen surgeons for the Professional Football Association (PFA) providing joint replacement and soft tissue injury care to current and ex-professional footballers.
He is an expert on the latest rapid recovery techniques and is very keen on early mobilisation, optimising pain relief and achieving early return to function following knee surgery.
The latest joint replacement techniques he performs include both partial and full surface replacements and uses patient specific 3D printed customised alignment methods for accurate fitting of knee implants when necessary.
Mr Rajaratnam also treats numerous professional and amateur sportsmen with soft tissue injuries to their knee and performs over 100 ACL reconstructions each year as day case procedures.
He is one of the select surgeons working with the "Professional Football Association" and other similar sporting institutions and is one of the chairs/ expert contributors to the annual FIFA- Isokinetic Football Medicine Conference each year.
He is excited about the advances in stem cells and biological solutions for treating appropriate cartilage defects in the knee, but is very careful in selecting the appropriate patient for each new technique.
MB BS, BSc, FRCS(Tr & Orth)
Sam is a keen sportsman and enjoys numerous sports including golf, cricket, tennis and countryside sports. He is also a keen pianist and accordionist.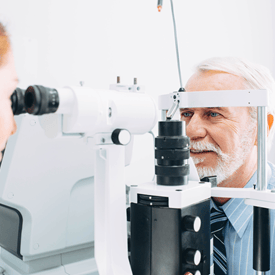 Glaucoma Symptoms: All You Need to Know
When people look online for any medical, surgical or illness-related information, it can often be quite daunting — and sometimes even inaccurate. At The McIndoe Centre, one of our main priorities is to educate our patients on the procedures we perform. We believe that by doing this, our patients can become their own health advocates and…