facial reconstruction following trauma, Orthognathic surgery
Professional Profile
Mr Sneddon qualified in both dentistry and medicine at Kings College Hospital, University of London in 1983 and 1991 respectively. He obtained his specialist training in maxillofacial surgery at major UK centres in Glasgow, East Grinstead and University College Hospital in London.
He was appointed as consultant at Queen Victoria Hospital, East Grinstead in 1999 and is also postgraduate dental tutor at Tunbridge Wells.
Referrals are welcome in all areas of oral and maxillofacial surgery from both general practitioners and dental surgeons. Mr Sneddon has special interests in orthognathic surgery and facial reconstruction following trauma. His research interests include 3D imaging and the use of custom made titanium implants in orbital reconstruction.
facial reconstruction following trauma, Orthognathic surgery
He runs the facial anomalies clinic at the Queen Victoria Hospital with Mr Phil Gilbert and Mr Mark Mulhern, his plastic and ophthalmic colleagues.
Mr Sneddon together with consultant colleagues, run the Team for Advanced Oral Implantology., which has been established to deal with the growing number of patients requiring dental implants to help restore their quality of life.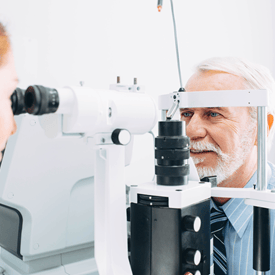 Glaucoma Symptoms: All You Need to Know
When people look online for any medical, surgical or illness-related information, it can often be quite daunting — and sometimes even inaccurate. At The McIndoe Centre, one of our main priorities is to educate our patients on the procedures we perform. We believe that by doing this, our patients can become their own health advocates and…