Diane Meadows | Dupuytren's contracture
McIndoe Centre helps Diane Meadows get a grip on Dupuytrens Disease.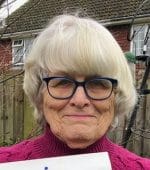 Diane Meadows was first diagnosed with Dupuytren's contracture following a visit to her GP late in 2020.
For Diane, who leads an active lifestyle that belies her 87 years, the symptoms weren't painful and initially she carried on without any concerns. However, 12 months later the condition was progressing, it was getting difficult to grip items and beginning to compromise her lifestyle.
In November 2021 she was delighted to be contacted by the McIndoe Centre and consequently came in for corrective surgery by Mr Oliver Harley, one of Horder's Consultant Plastic Surgeons.
"You are an amazing team and the whole atmosphere in the centre is guaranteed to make patients feel relaxed and at ease. Ticking boxes in your feedback form goes nowhere conveying my gratitude. You do credit to the founder of the centre."
Diane Meadows
The procedure was straightforward and Diane was not required to stay overnight at the Centre. There was only limited discomfort during the procedure or even during recovery.
Almost three months on Diane says;
'I am delighted I had the surgery and have no regrets. I have full use of my hand and can cope much better with day-to-day tasks.'
Diane is also full of praise for Mr Harley, the McIndoe team and her overall experience at The McIndoe Centre.
Commonly known as 'the Viking disease' because it is believed to have been spread in the UK by marauding Vikings, the condition usually begins as a thickening of the skin on the palm of the hand.
As it progresses, the skin on the palm can appear dimpled and firm lumps which can be sensitive to the touch can form. In later stages, cords of tissue form under the skin on the palm and can extend up the fingers. As these cords tighten, fingers can be pulled toward the palm, sometimes severely and in so doing create a claw like appearance.
Find out more about the McIndoe Centre
We provide outstanding patient experiences
As a nationally recognised hospital of excellence in plastic, reconstructive, ophthalmic and maxillofacial surgery, we have demonstrated ourselves to be: effective, responsive, caring, safe and well-led. Recently rated 'good' by the CQC, we are committed to treating our patients and each other with kindness, respect and dignity resulting in life-changing outcomes.
Patient testimonials
Find out what it's like to be a patient, from the people who matter the most.