Chin Correction Surgery (Genioplasty)
If you are considering a genioplasty treatment, you may be looking for some more information to help you determine whether this is the best course of action for you. He

re at

The McIndoe Centre

, we offer both types of genioplasty techniques, and each one offers a list of excellent benefits. 
What Is Genioplasty?
Genioplasty is a type of chin augmentation surgery used to correct the shape and position of your chin. Patients will choose this surgery for cosmetic purposes rather than medical reasons – therefore, it is categorised as cosmetic surgery, which means the procedure is not available on the NHS. 
There are several different types of genioplasty. These are: 
Horizontal

 

Vertical

 

Combination

 

Implants

 
During the consultation you have with your chosen clinic, your consultant will work with you to find the appropriate methods of surgery for you. Expect to have detailed photographs and x-rays of the treatment area to help doctors determine how much correction is required.  
Chin Implants
A chin implant is a small, solid device that is inserted to help reshape the structure of the chin. Before your surgery, your implant will already be sculpted to the correct size, so it is ready for insertion. Your implant can be made out of several different alloplastics. 
At the beginning of your surgery, your surgeon will make an incision inside your mouth or under your chin. Your implant will be inserted, and afterwards, the incision will be stitched up. Depending on the complexity of the treatment area, the procedure can take as little as 30 minutes or anywhere up to three hours.  
Genioplasty Before and After
Genioplasty is a procedure that offers excellent results and some incredible benefits. Patients will be able to enjoy their new facial contour as it is made to look more aesthetically pleasing by the procedure. The treatment can also help correct facial asymmetry, while others can enjoy a more enhanced jawline.  
There is no denying that the results of this treatment speak for themselves. For some, the result can be life-changing. A genioplasty can boost clients' self-esteem as they feel a lot more confident with their new look. During your consultation, your doctor will discuss your cosmetic goal with you and use the procedure to help you achieve your desired look.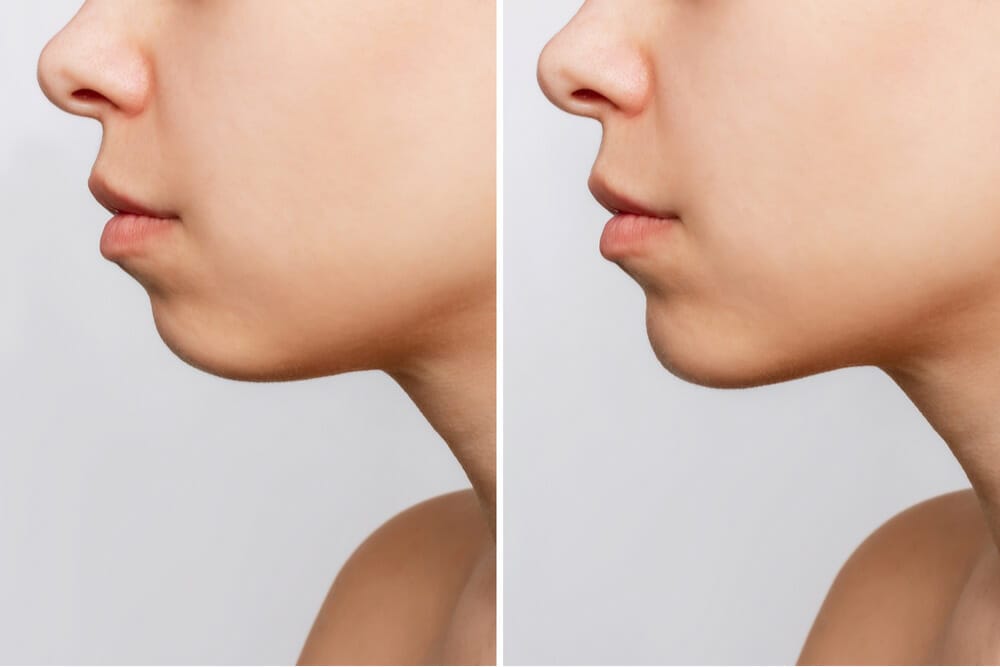 Genioplasty Recovery
Both genioplasty techniques have a similar recovery time. The tissue in the treatment area needs time to adhere to the implant and new bone structure. As soon as you feel comfortable, you can start consuming food. It is recommended, for both techniques, that you stick to a soft-food and liquid diet for the first few days. After each meal you consume, you should rinse your mouth with either water or an antiseptic oral rinse. You should also try and avoid strenuous activities for the first few days. Give your body the time it needs to heal and recover. You may notice some swelling and bruising around the treatment area after surgery but try not to worry as this is normal. If you are concerned, seek medical advice.  
Genioplasty Risks
Like all cosmetic procedures, there are some risks associated with genioplasty. Although these complications are rare, it is important to be aware of them - so you know what to look out for. Take a look at the list of complications below: 
Allergic reaction

 

Infection

 

Nerve damage 

 

Exposure of screws

 

Extrusion of implant

 
If you are experiencing bad side effects, seek medical assistance as soon as possible. If you choose a qualified clinic like The McIndoe Centre, you can seek the peace of mind that you have put your trust in experienced surgeons with the right qualifications to carry out your surgery.  
Genioplasty Cost
In the UK, the average cost of both types of genioplasty can range anywhere from £3000 to £7000. The cost of the procedure will be influenced by several factors such as the clinic you choose, the surgeon and your specific requirements. Although it can be a hefty upfront cost, some clinics may offer several finance options to help you pay for your treatment, much like our payment plans here at The McIndoe Centre. This price of the procedure will include informative aftercare, general anaesthetic and an experienced surgeon. So, you can seek peace of mind knowing you are in the right hands.  
Genioplasty Consultation
If you are self-conscious about the appearance of your chin and are looking for a treatment that can help you achieve your desired look, The McIndoe Centre can help. Our team of highly skilled consultants take the time to understand your cosmetics goals and help you find the best course of action. Here at The McIndoe Centre, we believe everyone deserves to feel confident in the skin they are in. We are proud to say our clinic is home to some of the UK's most esteemed consultants and exceptional facilities.  
If you would like to speak to one of our friendly team members about genioplasty surgery, we recommend that you book a consultation today. Our consultations are an excellent opportunity to get to know you and understand your cosmetic goals. As well as finding you the best course of action, our consultants put you at ease, guiding you through each step of the treatment process. We are also offering video consultations which means you can attend your appointment from the comfort of your own home. Contact us for more information. 
If you are thinking about having cosmetic surgery, here are some important questions that you should ask yourself to help you make the decision that is right for you.
What do I want to change and why do I want to have surgery?
Have I considered all the options?
Can surgery give me the results I want?
Am I expecting the surgery to change my life as well as my appearance?
Is now the right time?
Having surgery is a big decision
For more information and advice about cosmetic surgery contact our Private Patient Advisory Team on 01342 488054 or email info@mcindoe.co.uk
Planning your long-term goals with your consultant, and researching the procedure, will reinforce whether surgery is the right option for you.Surgery is not without risk so you should be sure in your reasons for wanting to go ahead. It is important that your expectations are realistic and that the advantages to you always outweigh the risk of surgery.
Take this checklist to your consultation with the surgeon performing the procedure. Discuss each topic with your surgeon to help you make the decision that is right for you before having surgery.
Having surgery is a big decision
For more information and advice about cosmetic surgery contact our Private Patient Advisory Team on 01342 488054 or email info@mcindoe.co.uk
Think carefully before having cosmetic surgery
Never feel rushed or pressured into giving your consent. Be wary of surgeons or staff who try to convince you to go ahead. Take plenty of time to make your decision.
We strongly advise you take at least two weeks after your consultation with the surgeon performing the procedure to think things through before surgery.
Having surgery is a big decision
For more information and advice about cosmetic surgery contact our Private Patient Advisory Team on 01342 488054 or email info@mcindoe.co.uk